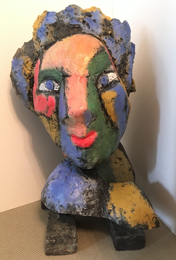 Markus Lüpertz
Born in the year 1941 in the now Czech Reichsberg, Markus Lüpertz studied at the Werkkunstschule Krefeld and the art academy in Düsseldorf. In the year 1964 he opened the gallery Großgörschen 35 in Berlin.

He was honored the Villa Romana Award in the year 1970, which is associated with one year stay in Florence. Since 1976 it is active as a professor at the national academy of the forming arts in Karlsruhe and in the late eighties at the national academy of arts in Düsseldorf. (from 1988 to 2009 director) He was honored with the prize of the German critic federation and the Lovis Corinth prize.

He was commissioned to create a sculpture 'The Philosophin" for the entrance hall of the federal chancellery in Berlin and 2005 a sculpture of 'Mozart" on the Salzburger Ursulinenplatz.

Markus Lüpertz lives and works in Berlin, Düsseldorf and Karlsruhe.