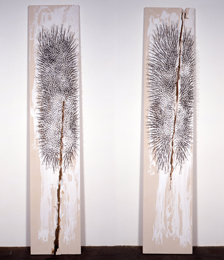 Günter Uecker
"Where speech fails, starts the picture."
Günther Uecker was born in 1930 in Wendorf, Mecklenburg, and studied art at different art academies in East and West Germany (Wismar, Berlin-Weißensee and Düsseldorf with Professor Otto Pankok).
Ueckers art is minimalistic. The plain steel nail is his medium. As antithesis of the painted picture he covered boards and whole furniture with hundreds of nails. The finished pieces look as being struck by wind that left regular or chaotic nail formations. The formations resemble signs of an unknown language and express in their rhythmic structure human motions from meditative-peaceful to chaotic-aggressive.
This artistic expression not only manifests in his nail-reliefs on paper and his nailed objects but in his light installations, kinetic-objects, aquarelles and graphics as well.
Based on his experiences from World War II and his wish to renew the post-war art, Uecker was captured by the vision of the art-group ZERO. He became close friends with Otto Piene and Heinz Mack.
For more than fifty years Uecker has been one of the leading artists of the European Avant-Garde after 1945. From the beginning his works received many acclamations. 1957 he used nails for the first time. In 1964 he took part in the Documenta in Kassel for the fist time as part of the ZERO artists. A couple of years later he represented Germany the Biennale in Venice. 1983 he earned the art price "Kaiserring" donated by the city of Goslar, one of the most important German prices for contemporary art. 1999 he was asked to decorate the spiritual room in the Reichstag of Berlin.
Today his works are high in demand by international collectors.
The artist lives and works in Düsseldorf and St. Gallen.